We made it to Friday! Today I'm linking up again with other fun bloggers, to share a few of my favorite things this week!
We celebrated my favorite teenager turning Sweet Sixteen this week by having dinner at one of her favorite steakhouses. We will be doing a little more celebrating this weekend, because why celebrate just one day when you can celebrate a whole week! Click on Monday's
post
to find out Sixteen Fun Facts About Kendall.
Our four year old, keeps us on our toes! He is smart as can be, likable and charming. It's cute now, but I am already nervous about his teen years. Here's a snipet of a conversation we had this week:
Me: Jess, I heard you have been kissing girls on the playground at Wee School. You don't need to be kissing girls that aren't family until you're married (It's nice to have goals).
Jess: Mom, I can't help it...I'm a kissing machine!
I am soaking up all of this one-on-one time I am having with Jentry before she goes to Wee School two days a week next year. Jess and Jentry are together so much, that it's nice to have her alone and see her unique personality develop. Jess always wants a complete play by play of what we did while he was gone. He's so worried we might do something amazing, like play play-dough, without him.
What Jess thinks we do all day while he is at Wee School:
What we actually do while Jess is at Wee School! #LetTheGoodTimesRoll
I don't really have a huge sweet tooth, but occasionally I like something "desserty" at the end of the evening. My friend, Lindsy shared this with me last week and it hit the spot! I stocked up on a few different flavors and have been eating it with strawberries all week. Lindsy's tip was to put it in the freezer for a few hours before eating. Dannon Triple Zero Greek Yogurt has ZERO added sugar, ZERO artificial sweeteners, and ZERO fat. My fellow Trim Healthy Mama friends, this snack is for you!
We just wrapped up Priscilla Shirer's study "The Armor of God" in my Ladies Bible Study group. This may have been my favorite study ever (I think I say that after every study). It was so relevant to me and I was able to apply it immediately to my every day life. One of the things that stuck with me the most, was how praying for thanksgiving can release peace. In other words, when I'm having a "Mommy moment" and I just want to throw my hands up in the air and give up; be thankful. I have used this over and over the last few weeks. When I am feeling overwhelmed, I stop and pray a prayer of thanksgiving. It is amazing how much peace it releases. My blog post on Wednesday was all about being thankful in messy moments. If you didn't have a chance to read it, please click here. I think everyone will be able to relate to it in someway.
Thanks for stopping by! I hope you have a great weekend!
Make sure you follow me on Facebook, to see what I'm doing the rest of the week!
I'm linking up with lots of other fun bloggers for Friday Fun...be sure to check them out, too!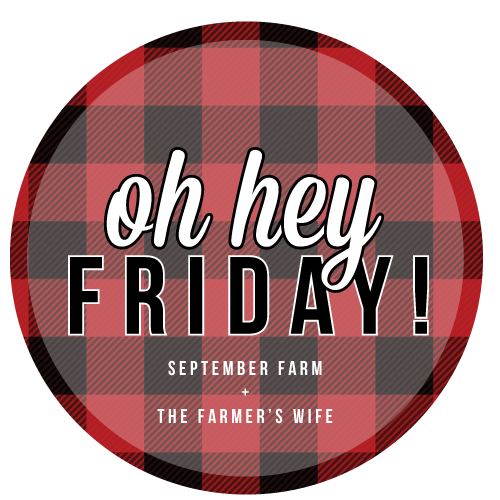 Emily