We made it to Friday again! High five! Speaking of...I received an email yesterday saying that I am this week's featured blogger on the H54F (High Five For Friday) linkup. Thank you so much
Katie
,
Caitlin
,
Tif
and
Della
for spotlighting this little ol' blog of mine. I am truly honored.
Now, let me tell you five other things that made my week so special....
I took my teenager to a bar...a Color Bar! As I mentioned
last week
, Kendall had a birthday, so we pretty much spent the whole month of February celebrating. I am about to let you in on a HUGE secret...OK, it's not really a secret, but it is definitely information worth sharing. If you're a
Kendra Scott
fan, like we are, then you need to know this: during your birthday month you get half off anything in the store! Yep, it's true! Monday night, Kendall, and I headed to our nearest Kendra Scott store to cash in! She opted to design her own piece from the Color Bar. It was so fun and she got a
beautiful necklace
to show for it!
Speaking of Kendall...she's pretty happy with me now that she got her shoes back. I was on the fence on whether I would really wear Converse. After wearing Kendall's a few times and loving them, I finally bought
my own pair
! They are so comfy and perfect for those days when you're running around with kids, yet want to look "hip" too. Do hip people use the word hip? Probably not.
We love seafood around our house. When I need a quick and healthy meal, that everyone will eat, I know I can count on my
foil packet salmon
or this lemon pepper tilapia. We made this Wednesday night and it hit the spot! All you do is, spread a little butter over the fish, sprinkle some lemon pepper on top and generously juice a lemon (or two) over the tilapia and bake it at 375 degrees for 10 minutes, or until the fish flakes easily. It's so good, yet light. The perfect spring-time dinner.
The weather in Small Town, Texas has been nice this week, so we have spent our afternoons in the sun! Unfortunately Small Town, Texas is far, far away from a Starbucks, but I made my own version of their Green Tea Lemonade's that I just love. It is the perfect back porch, sitting in the sun, watching the kids drink, AND it's sugar-free. Trim Healthy Mama friends, you have to try it. I just brewed up some green tea, poured it over ice and added a packet of True Lemon. Yum!
This guy cracks me up. We had a lunch date a few days ago and that's all he has been able to talk about. He loves some quality time! We were discussing important current events over lunch, and I asked him if he liked the Republican Party or the Democrat Party better. He replied, "I like a birthday party best!" Yep, me too, Jess! If you missed my
post on Tuesday
, go check it to see how he finished some well-known movie lines. He keeps us on our toes; that's for sure!
Thanks for stopping by! I hope everyone has a great weekend. Don't forget to check out some of the fabulous bloggers I am linking up with this week!
Emily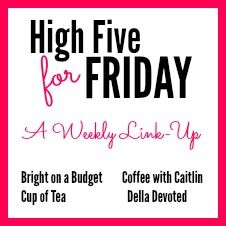 P.S. This post contained affiliate links, which means if you clicked on a link & made a purchase, I may have received a little commission. Thank you for reading and supporting my blog.